Kingdom of Bahrain tackles Internet safety
by Larry Magid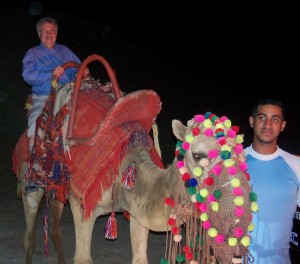 Larry takes a camel ride after first day of conference
I'm in the Kingdom of Bahrain in the Persian Gulf this week, attending an online safety conference sponsored by the Bahrainian Telecommunications Regulatory Authority and the Washington-based Family Online Safety Institute.
The conference, which is taking place at the posh Ritz Carlton in Manama, is bringing together Internet safety experts from the United States, Britain and the Gulf states with educators, policy makers, police officers and other stakeholders from Bahrain, including some members of the Royal Family.
Even before the conference started, I got a lesson in the bizarre contradictions of this island nation which is connected by a 17 mile causeway to Saudi Arabia.  Monday night dinner was the hotel restaurant which happens to be Trader Vics – just like the ones in the United States only fancier.  In keeping with the restaurant's Polynesian theme, the menu had drawings of topless women yet many of the female patrons at the restaurant were fully covered by burqas.   I was told that a lot of Saudis visit Bahrain on weekends to take advantage of more liberal policies regarding alcohol, entertainment, dress code and other amenities.
The Internet growth rate here is astronomical.  In 2007, only 5.7% of the population was online but by 2009 it mushroomed to 55.3% according to Professor Julia Davidson of London's Kingston University who, along with Elana Martellozzo of Middlesex University, is conducting a research study and review of the country's Internet use and safety.
Because of that growth, the country's Telecommunications Regulatory Authority decided it was time to examine potential pitfalls of the Internet so the country could properly educate children and others about how to protect themselves. I was invited as one of several speakers from abroad in my capacity as co-director of ConnectSafely.org and founder of SafeKids.com.
The theme of the conference is "creating a national consensus for online safety" and, to that end, much of the discussion centered around the contention that Bahrainian citizens are only beginning to understand both the positive and potentially negative aspects of the Internet.
International speakers on the first day included FOSI CEO Stephen Balkham, UK Children's Charities representative John Carr, UK Internet Watch Foundation CEO Peter Robbins, International Center for Missing & Exploited Children policy director Maura Harty, AT&T VP Dorothy Attwood and Verizon technology policy director Michael McKeehan.
For example, during a briefing before the conference, officials U.S. and British conference participants us that many people in the country simply are not aware that there are potential dangers for children and adults ranging from cyberbullies to adults looking for sex with children to viruses and other types of malicious software.  The goal of the local telecommunications industry, said one official, has been focused on getting people online, rather that teaching them to use the net safely.
But just as some people are oblivious to potential dangers, others are overreacting.  One Bahrainian government official told the conference that "American statistics on Internet predators are frightening," which, as it turns out is not the case.  The odds of an American child being sexually molested by an adult or she meets on the Internet is extremely low. Youth in America are far more likely to be bullied online while the overwhelming majority of sex abuse cases involve people the victims know from the offline world.
The conference attracted government officials, law enforcement, Internet safety experts and telecommunication company representatives from several countries, especially the United States and Britain.  One speaker, U.S. State Department representative Stephen Simpson, said that there are now 56 million Internet users in Arab world, representing about 17% of population.  In his address to the conference, Simpson quoted U.S. Secretary of State Hillary Clinton's January speech on Internet freedom when she spoke out against government censorship all around the world. Yet, as I was Tweeting during the conference, I received a Tweet from a Bahrainian human rights activist living outside the country saying that the government censored a human rights Twitter page. He sent me a link to that page, but when I tried to access it from the hotel's WiFi network I got a message that "This web site has been blocked for violating regulations and laws of Kingdom of Bahrain."
Not surprisingly, people in Bahrain will get the same message if they try to go to a site with sexual images. There's no need for parents to put filters on their kids computers. The government does that at the server level  for everyone's computers.