FTC's digital privacy report has welcome recommendations
This article first appeared in the San Jose Mercury News
by Larry Magid
The Federal Trade Commission's final report on digital privacy contains some very welcome recommendations.
The recently released report, title "Protecting Consumer Privacy in an Era of Rapid Change," looks at challenges consumers face in "today's world of smart phones, smart grids, and smart cars," as "companies are collecting, storing, and sharing more information about consumers than ever before." It sets out a framework that would allow consumers to control whether they are tracked online, have better visibility into how information is used by mobile apps and have access to their information being held by data brokers.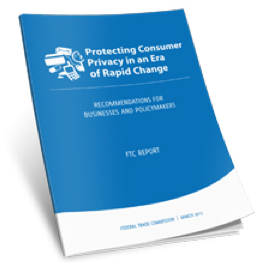 The commission isn't calling for "do not track" legislation similar to the "do not call" law that, in theory, protects us against unwanted marketing calls. Rather, it calls for voluntary industry compliance, which it says is starting to happen through browser-based tools and cooperation from the Digital Advertising Alliance and other players.
Ironically, this voluntary approach may actually work better than the "do not call" law, which makes it a crime for businesses to cold call phone numbers registered at DoNotCall.gov. I've registered all my phone numbers, but I still get annoying robocalls trying to sell me carpet cleaning, car insurance and a new mortgage.
The commission's focus on mobile apps is right on target. Between Google's Android and Apple's iOS there are now about a million smartphone apps capable of doing virtually anything with your phone, including tracking who you know (your contact list), where you go (your geolocation) and even who you're calling and what you're texting. There have already been several reported cases of both deliberate and accidental disclosure, so government attention to this is certainly warranted.
One area where the commission did call for "targeted legislation" is to address consumers' lack of control over how data brokers collect and use our information. The amount of information floating around about each of us is staggering. Anyone with a phone, a bank account or a "loyalty" card, such as the one I use to get fairer prices when I shop at Safeway, is giving up information every time they shop, make a call or get on an airplane.
Many years ago — even before the explosion of the Internet — I made a quick and unexpected trip to Los Angeles and realized that I hadn't told anyone, not even my wife, where I was. But I realized that my cellular company, the car rental company, my credit card companies and the airline knew exactly where I was, as did all the networks and clearinghouses that transmitted and stored data. My credit and debit card companies even knew what I bought and where I was staying and my bank and the bank whose ATM I used had a pretty good idea of how much cash I had in my wallet.
Much of the information from our lives is stored in computers, and some of that is for sale to marketers, insurance companies, employers and even law enforcement — anyone with the money.
The FTC wants Congress to pass a law that would "provide consumers with access to information about them held by a data broker." The agency is calling for a "centralized website where data brokers could identify themselves to consumers and describe how they collect and use consumer data," as well as to "detail the access rights and other choices they provide with respect to the consumer data they maintain."
That strikes me as more than reasonable. Some data brokers (along with all credit bureaus) will sell you access to your own information, but that feels a bit like extortion to me. If it's my information, it should be available to me at any time, as often as I want, for no cost and without any strings, gimmicks or sales pitches.
I hope the law is more consumer friendly than the Fair Credit Reporting Act (FRCA), which gives consumers the right to an annual free copy of their credit reports from the three major bureaus: Experian, Equifax and TransUnion. It's a great law but when you ask for your annual report, you're likely to get a sales pitch, such as the one I got with my free TransUnion report. It offered me "instant access to my FREE credit score" that would cost me $29.95 a month after my "free trial."
It seems to me that a government mandated program should be devoid of any commercial offers, especially deceptive ones that claim to be "free" but actually cost money if you fail to cancel in time. And why should I have to pay for my "credit score," which in some ways is more important than the report itself? It's about me, so it should be completely free and available at any time — not just one report per year per bureau.
So, thank you FTC for outlining a broad approach to transparency when it comes to accessing our own data. Now it's time for Congress to enact legislation that truly benefits consumers, not just those who profit from our information.