Finally, a kid-filtered iPad browser, but not from Apple
By Larry Magid
There is finally a way to let kids access the web on an iPad without having access to porn.
The Apple iPad is a phenomenal success not only among consumers and business users but in schools as well. It turns out to be an incredibly popular device for children  who take to its user interface immediately and intuitively.  It's no wonder that lots of iPads wind up in the hands of children.
But there is a problem. When it comes to the ability for parents and educators to control what their kids can do using Apple's Safari browser, there are only two choices: On and Off.  The adult in charge can disable access to Apple's Safari browser but there is no built-in way to give kids access to appropriate content and keep them away from porn.  What's more, there can only be one account associated with an iPad (or an iPhone too) so, unlike PCs and Macs that allow for multiple users accounts, if you share an iPad, every user — whether 4 or 40 —  has access to the same software and same rules on engagement.

PCs and Macs allow for multiple user accounts but not iPads and iPhones
As far as I know, only Apple can solve the problem of only one account, but MetaCert, a San Francisco-based company that's dedicated to protecting kids from pornography, has released a new browser — called Olly — that provides all the features of Safari plus the ability for parents to turn on "safe browsing," which filters out millions of porn sites.
Because Apple does make it possible to disable Safari, it's possible to make Olly the only available browser. Parents can always turn Safari back on when they're using the iPad but after using Olly for awhile, I think it makes more sense for parents to simply use Olly with safe browsing turned off.
Easy to use
Olly is very easy to download, install and use. Parents assign themselves a four digit numeric passcode that enables them to not only turn Olly's safe browsing mode on or off, but to add additional sites to the filter list including Badoo, BlogSpot, Digg, FaceBook and Twitter, however By default these sites are not blocked, which is smart,since there are plenty of good reasons why kids should have access to social networking sites.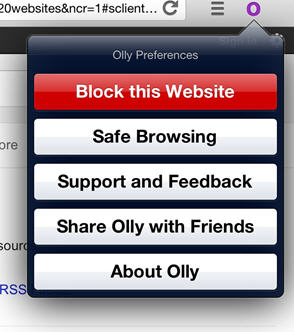 Olly allows you to toggle safe browsing and block specific sites
Once it's configured, every web request is passed through MetaCert's filtering system, which currently labels 638 million sites.  If the site isn't on the list, you get to it instantly. If it is, you see a page telling you it's blocked.
Olly also allows parents to add pages to be blocked and to report if a site should be blocked or unblocked.
In my tests, Olly performed well, but no filtering system is going to be 100% effective. Parents and teachers still need to supervise their kids' use of technology and set ground rules on appropriate use of technology. Still, Olly is another tool in the toolbox which not only helps parents, but makes it easier for schools to allow kids to access the web without having to worry about kids looking at porn.
Currently, Olly is available only for the iPad. iPhone, iPod Touch and Android versions are forthcoming.  MetaCert also publishes porn blocking plug-ins for Chrome and Firefox.