Snapchat adds playful video & audio chat features
By Larry Magid
Even though I helped write ConnectSafely's Parents' Guide to Snapchat, I've never been a heavy user of the service. Sending a picture that disappears in 10 seconds isn't high on my priority list. But thanks to some new features, I'm starting to have fun using Snapchat even though I'm a lot older than its prime millennial audience.
The company just released an update they're calling Snapchat 2.0, which turns the app into, among other things, a multimodal chat platform.
You can still send a selfie or other image to a friend and have it disappear 10 seconds after it's viewed but, if your friend is online, you can also carry on a conversation with the person either as a video chat, an audio call or text chat. And, unlike before, you can switch back and forth between these modes. You could, for example, start with a text and decide you wanted to talk and later go into video mode and then switch back and forth. Or you could send a text while you're in the middle of a video call.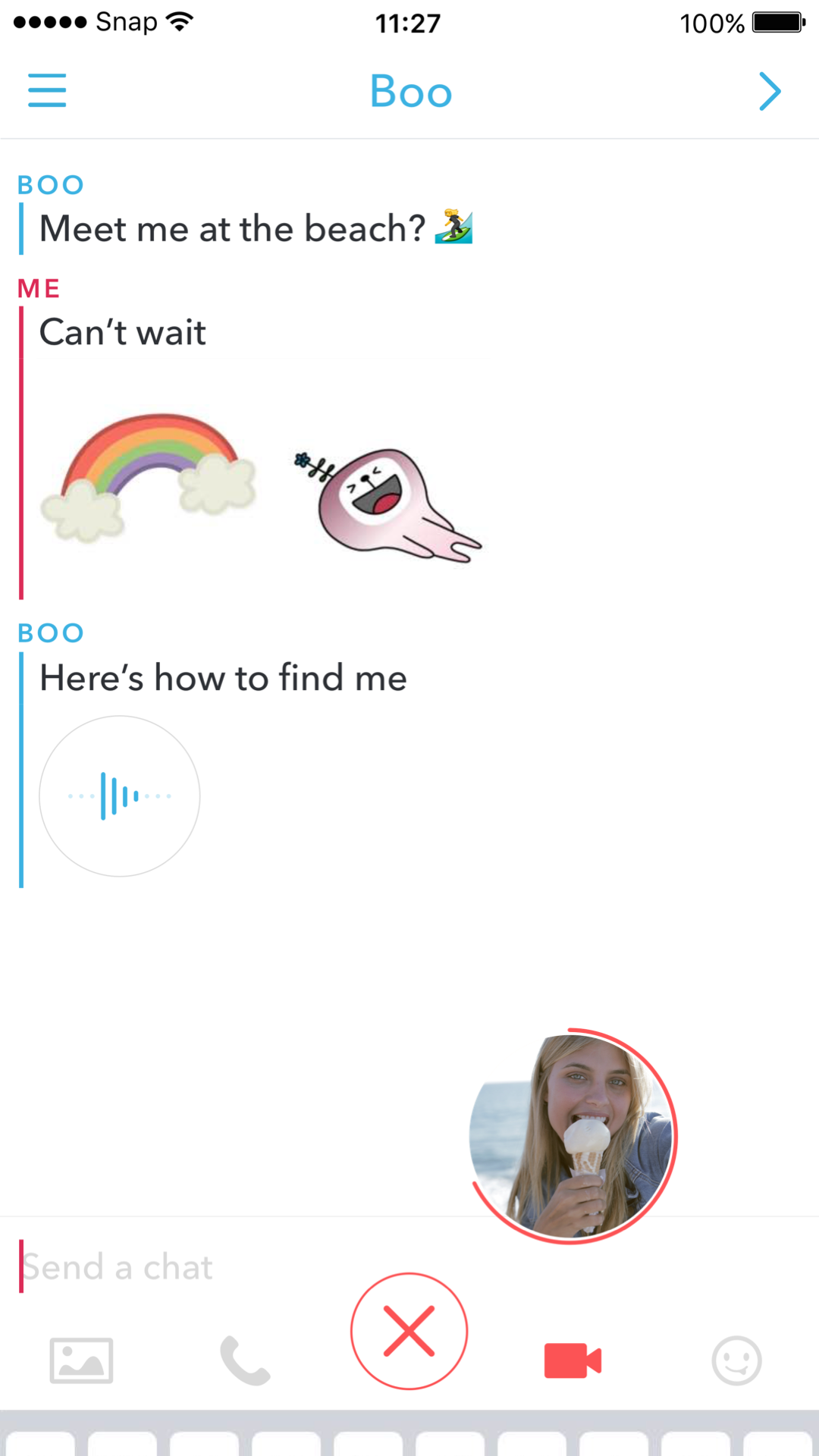 The service also introduced stickers, which you can send while you're chatting. These aren't just emojis, but fully drawn images to connote a wide range of emotions and comments, including at least one with a four letter word that I can't print in a family newspaper. You can select from any of the 200 images provided or typing a word to see if there is an image associated with that word. For example if you type "sweet" in the chat box and then press the smiley icon, you'll get a sticker that says Sweet.
You can also send animated GIFs (graphic image files) during a chat session. A GIF can be recorded with your camera and typically includes at least some movement. And, while you're in chat, you can also send multiple photos.
As Snapchat said in a blog post "You can start by sending a few chats, and when your friend shows up, start talking or video chatting instantly with one tap. Your friend can simply listen if you want to sing them a song, or watch if you have a new puppy to show them."
The app also lets you send someone an audio note, kind of like voice mail, if they're offline.
Snapchat introduced stories in 2013 which enables users to create content that can be viewed over a 24-hour period. A story can be a series of snaps, for example. And with the latest release stories can automatically advance so when one ends the next starts automatically for a more laid back experience. It reminds me of the way Netflix automatically shows you the next episode in a TV series without having to touch the remote control.
Overall, Snapchat is just more interactive and more playful, which should be well received by its mostly millennial audience along with this more senior reviewer.
Disclosure: Larry Magid is CEO of ConnectSafely.org which has received financial support from Snapchat.